In case you haven't noticed I've really been into making sleeveless summer tops lately. I've got another one for you today! Itch To Stitch has just released her
Vienna Tank
pattern, which I had the opportunity to test last week. I loved the fit and style so much that I've already made two. The pattern calls for a woven yoke/tie and a knit for the fronts and backs. It has two style options. View A has collar ruffles and a flipped out center front facing. View B has a smooth bias bound collar and tucked in center front facings.
My bust hand hip measurements currently match Itch To Stitch's size chart for an 8. There is a generous amount of ease in the top's style to accommodate my thicker waist, so I stuck with sewing the 8 straight off the printer.
For my first "test" I pulled a vintage kimono silk fabric for the yoke and a sheer poly/rayon tissue weight jersey. We had been advised to steer clear of sheer fabrics during the test phase but what can I say, I'm a rebel. (My second version is all opaque and rule-following.) I think that it's valid advice, at least as far as the yoke is concerned. There's lots of seams tucked up in there and no one wants to see that. However, as far as the body goes, I think a sheer can work quite nicely, provided you are willing to go the extra mile to finish the edges cleanly.
The armholes were not as difficult as I expected. I took care to use a nude colored stay tape at each edge. I surged the edges, without cutting anything off, then folded them the seam allowance and basted them down while I finished construction. They were top stitched later. I had no trouble using a straight seam tape (I didn't have any knit in nude). A couple clips to navigate the curves worked fine. The armhole is just the right size for me: nice and high to easily cover my bra, but not too snug.
I marked the CF stitch line and used a regular straight stitch to seal up the front. I serged the edges of my facings and pressed them under to keep the inside neat.
But, as soon as I attempted to top stitch the facings in place, my fabric started acting all shifty. You can see my best attempt above on the right. So much worse in person. A girl can only struggle so long before she gives in to the one thing that she knows will work: hand stitching.
.
I've recently admitted to myself that I just love a hand sewn catch stitch seam and couldn't help myself in applying it here. Even a casual summer tank deserves a touch of couture, right? Obviously, a detail like that increases the time needed to fully complete the top, but in my humble opinion, it turned out lovely and was totally worth it.
With the pattern directions for machine top stitching on the facings and hem, and so you could finish this top in a day...or even an afternoon if you are a quick sewer.
Another worthwhile tip: hand baste the collar and ties. Not having to navigate pins or have anything slip out of place while stitching so close to the seam made it so easy!
Ok, OK! Enough with the "how I got here"... Take a look at my beautiful new summer top:
The Vienna Tank from Itch-To-Stitch launches today! You can get a copy right now through June 13th for 20% off.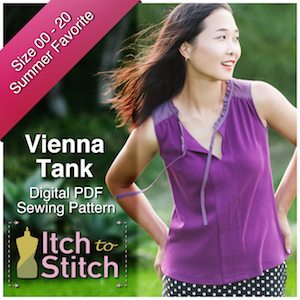 And if that's not enough, Itch-To-Stitch is also offering 15% off purchasing any two or more patterns. Just use the code SUMMERFUN when you check out. Now's the time to grab those patterns you've been wanting!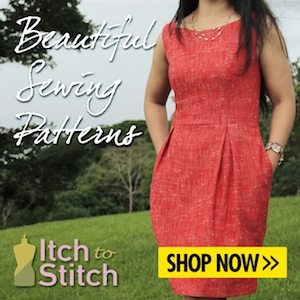 Stay tuned...I've got at least 2 more versions of this tank on my sewing table right now!